A CTO's job is to manage all aspects of an enterprise IT system.
A CTO is a transformer-in-chief, a professional who wears many hats to coordinate and manage the changes a business needs to implement in order to thrive in the digital age.
A good CTO helps businesses become efficient and connected. It helps teams develop new projects, products, and services.
This means working closely with the management team to eradicate data silos and help shape strategies.
But what happens if you don't have the infrastructure to hire a full-time CTO?
Easy. You hire a fractional CTO and get the same benefits with less commitment.
What is a fractional CTO anyway?
A fractional chief technology officer (fractional CTO) is a CTO who may serve in a part-time or contracted capacity.
In contrast to full-time chief technology officers, a fractional CTO will fill in as needed to help make sure that technology systems serve the essential aspects of the business.
A fractional CTO understands the inner workings of your company and is in harmony with the company's mission and objectives.
Also, a fractional CTO can provide the same level of strategic experience and leadership as a full-time CTO, but at a fraction of the cost.
Do you need a fractional CTO?
You know how it goes: you don't know you need something until you really need it.
Ask yourself a question:
Do I want the technology decisions made today to guide my business into the future?
If you said, "Why, of course!", then you need one.
Especially if dealing with technology is outside of your area of expertise.
A fractional CTO helps you answer questions like:
How will this product integrate into the real world?
Do you need to expand the team, or invest in training?
Is your product scalable, and does it support your customers?
Should you adopt an open source solution or build a custom one?
Where is the market headed, and what do you need to do to remain relevant?
That being said, the key business benefit of hiring a fractional CTO is that hiring one can bring the same expertise and capability of a full-time CTO without the expenses associated with adding a C-level executive to your team.
What does a fractional CTO do exactly?
The main cause of confusion around the role of the CTO today is that "technology" means a lot of different things in different contexts.
From material science to robotics to "everything as a service," everything can be considered "technology" today.
With that in mind, what is the job of a CTO, anyway?
A CTO, either fractional or full-time, should provide technical direction on how to use technology to help you achieve your business goals.
At the same time, a CTO will help you leverage technology solutions to maximize your productivity and increase your ROI.
This boils down to making and carrying out strategic technology or product architecture decisions for a software product.
Take a look at this chart, for instance: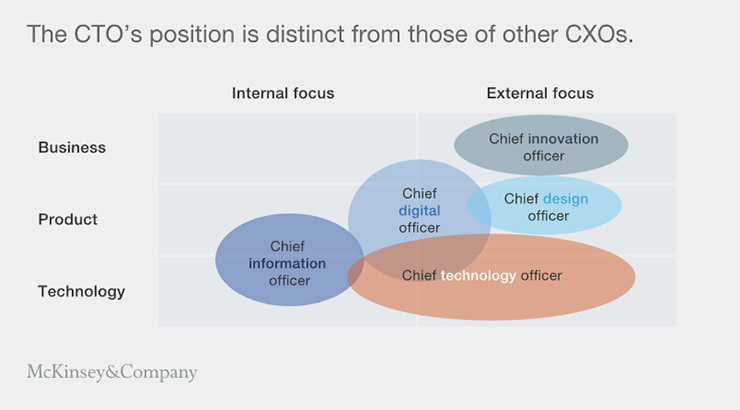 As illustrated, a CTO is equally concerned with product and product-related technology development.
These are the typical responsibilities of a fractional CTO:
Auditing existing software products and infrastructure
Optimizing or enhancing existing business processes with software
Reviewing and consulting on technical plans, schedules, and 3rd-party contracts
Hiring, managing, and mentoring a software team with a specific objective for the company
Why should you hire a fractional CTO?
A fractional CTO can enable a startup to turn threats into opportunities and increase the viability of your product, and by extension, your business.
An experienced fractional CTO should have a deep understanding of your market and of what's current in the technology space.
Besides, if you don't have the industry expertise to follow through on a project, hiring a fractional CTO could be beneficial to ease the workload of your employees–and even yours.
In a nutshell, if you want a pro to:
Push your company forward
Handle your technical needs
Become a leader for your team
Upgrade your technology stack
You need to hire a fractional CTO.
When do you need to hire a fractional CTO?
If you're feeling that your product has become too complicated or that you're failing to grasp all the nuances of what you and your team are creating, you should hire a fractional CTO to become a liaison between you and your technical team.
Adding a CTO to your startup could help you if:
You're building a new product and need clearly defined software requirements
A fractional CTO is valuable in the early days of a startup when you're establishing your minimum viable product (MVP).
At this stage, hiring a fractional CTO can help you clearly define the minimum set of requirements to get your product to market now, overseeing the development of the MVP, and iterating on it as you grow.
You have built your Minimum Viable Product (MVP) and you are ramping up your effort to scale your product
Building a software solution is risky.
Here's when a fractional CTO can help you identify the ways you could scale your MVP so you can meet the needs of your growing user-base.
You are unable to decide which programming language or software stack should be used for developing a new product
In the early stages of every startup, there are many assumptions. That's why one of the main responsibilities of any CTO is to select a technology stack, design the application architecture, and set up a scalable cloud-based infrastructure.
This, undoubtedly, requires strong programming skills, and here's where you could leverage the experience of a well-seasoned fractional CTO for a fraction of the money.
You are struggling to complete a software product because of unreliable developers, buggy software, or ever-changing software requirements
If you opted against hiring a senior leader early on, and instead hired a team of junior developers or outsourced your development, you'll need someone to mentor any in-house junior developers and oversee outsourced developers so you actually get a solid product built quickly within budget.
That could mean a lot of unnecessary headaches you could easily bypass by hiring a fractional CTO who could help you train your team, or help you grow your technical muscle when the moment comes.
You are experiencing internal struggles and inefficiencies that could be improved with custom internal software tools or a better trained technical staff.
A CTO, fractional or full-time, should be the Gandalf to your Frodo. This means guiding and training them when necessary.
But sometimes training is not enough, and you need a better set of tools to grow your business.
Since a fractional CTO is an external resource, it's easier for him or her to spot what is working and what isn't. A fractional CTO can help you spot internal struggles, and they can show you how to fix things that aren't working or improve those that could be working better.
---
All in all, if you need someone to drive your startup's technology needs and help you establish a solid foothold in the market, a fractional CTO is the way to go.
You think you need a fractional CTO but aren't sure where to start?